Last Fall my partner and I got married. We truly wanted it to be a community event, a chance to share our love and commitment with those we love the most. Part of creating a community through our wedding was to include as many friends (and friends of friends) in helping us achieve our vision. We are quite lucky in that we have so many talented people in our lives. I wanted to give these folks a public shout out and show you all their amazing work.
First, our photographer Jordyn Rozensky is a close friend of my husband. She did our engagement photos and also shot our wedding (along with her shooting partner and fiance Justin Hamel). Her work is wonderful and having her know us and understand us as a couple, made a difference.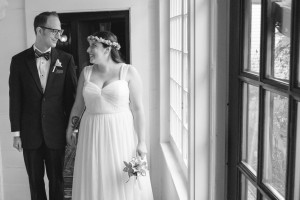 Our invitations were created by my friend Kate Ziegler and her partner Jack Romano , who run Union Jack Creative. They blogged about the process of creating our invitations here. They also did the lettering for our escort cards. Kate and Jack not only listed to our music/concert themed ideas, but added personal touches that we hadn't even thought of, like a silhouette of a chuppa and our venue on the invitation that we loved.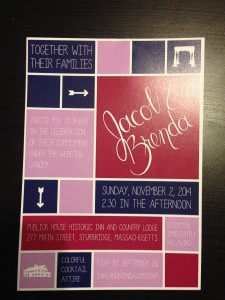 I knew before I was even engaged that I would not be doing a veil. For me it was one of those antiquated anti-feminist traditions that I couldn't (wouldn't even try to) reclaim. I wanted a flower crown. I asked my friend Caity MacLeod (her husband plays in a band with mine), who I knew through her instagram was super creative whether it was through her photography, her lettering or other crafts. When I first asked her, she admitted she had never done one before but was confident she could do it. And she nailed it. It was everything I wanted. Another bonus, she gave me extra flowers and berries in case any fell off the crown, instead I ended up using the extra pieces in my brideswomen's hair.
I wasn't the only one with a custom headpiece. My husband's Best Man's mother, who has known him since he was a child, hand painted the kippot for the wedding.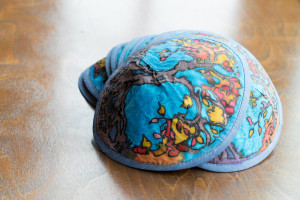 Our beautiful chuppa was designed and created by our friend Leora Mallach. Leora owns BBbatiks where she creates original batik textiles. We met with Leora and she explained the batik process to us and we chose colors and patterns that spoke to us. The final piece was exactly what we had in mind. We love it so much that we chose to keep it up and eat under it during the reception.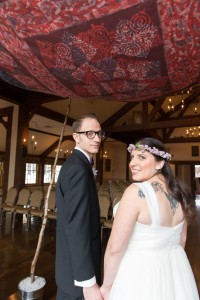 Our other judaica piece that we had especially designed for us was our ketubah. Luckily we were introduced via email to Jennifer Kaplan through our mutual friend Lindy. Jennifer creates one of a kind paper cut art. We corresponded and told her we wanted to incorporate the tree of life both for it's spiritual significance and to symbolize our environmentalism. We also asked that music be incorporated somehow as that was a running theme throughout our wedding. The design she came up with was more that we could have imagined. We are excited we have this remarkable piece of art to display in our home. You can see all her work at Jennifer Kaplan Designs.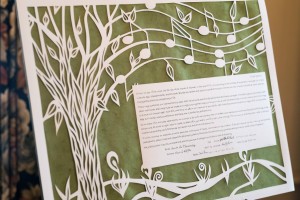 We had two musical contributors to the festivities as well. One of my husband's groomsmen Thom played the processional music on guitar. And my friend and bandmate Mike played guitar while I serenaded my groom during the reception. My husband proposed to me with a song so I thought it only fair that I return the favor.
The final addition worth mentioning is not a friend or even a friend of a friend but certainly worth noting none the less. Part of keeping our wedding green, I decided not to have flower bouquets. Instead I found an amazing alternative on Etsy. My paper flower bouquets were made from sheet  music of our first dance song. Dana's Paper Flowers is a unique alternative to a traditional bouquet. They were a huge hit and bonus I have it as a keepsake.
Our wedding was such a fun day. We are so lucky we got to spend it with so many wonderful people. We knew that our wedding wasn't only about us but everyone in our lives, and I think we made that clear through our choices.